Helsinki Airport (HEL)
Helsinki Airport (IATA: HEL, ICAO: EFHK), also known as Helsinki - Vantaa Airport, is located in the city of Vantaa, 17 km north of Helsinki. Is the main airport of Finland that serves Helsinki metropolitan region.
It is also a popular transfer point between Asia and Europe, due it's geographical location and fast and easy transfers.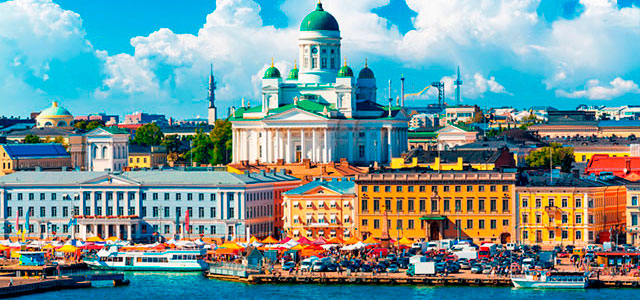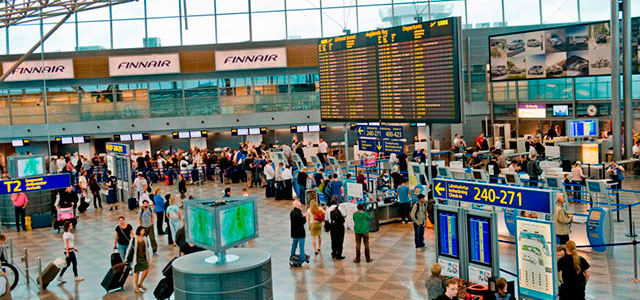 It serves as a hub for Finnair, its subsidiary Nordic Regional Airlines, CityJet, Jet Time, TUIfly Nordic and operatic base for Norwegian Air Shuttle. The airport is a focus city for Thomas Cook Airlines Scandinavia.
In 2017, the airport served over 18 Million passengers, being the fourth busiest airport in the Nordic countries and the 29th busiest airport in Europe.
Awards: In March 2018, Skytrax World Airport Ranking awarded Helsinki Airport as the best airport in Northern Europe.
History: Helsinki Airport was originally built for the 1952 Summer Olympic Games
Helsinki Airport is divided in two terminals that are only separated by a 250 metres pedestrian corridor. HEL Airport can handle 17 million passengers annually approximately.
- Terminal 1: It is called the Domestic Terminal and was the first one opened in the airport. Boarding gates 11 - 15 are located in this terminal (in the nearly future also gates 1-15) and is used by member airlines of Star Alliance. Currently airlines don't operate long haul flights from Terminal 1.
- Terminal 2: It is the International Terminal, opened in 1969. It has gates 32-38 and 16-60, and although is known as the international terminal, it also serves some domestic flights. It is used by member airlines of Skyteam and Oneworld airline alliances and, in addition, Turkish Airlines uses T2 too as an exception. Charter flights are handled at Terminal 2 and almost 30 airlines are using T2. It has a new shopping area, restaurants, bars, etc.
Helsinki Airport in Numbers
- Is the main international airport of the Helsinki metropolitan area.
- Is about 17 km far away from Helsinki city center.
- HEL airport is the biggest airport in Finland.
- Is 29th largest airport in Europe in terms of passengers numbers and the fourth one in the Nordic countries.
- The airport handles around 350 departures daily.
- In 2017 the airport handled 18.8 million passengers, this figure is the own record for Helsinki airport.
- 81% of the total number of passengers in the 21 airports in Finland
- It has 2 Terminals: T1 and T2 and a total of 3 runways.
- In the airport operate more than 50 airlines
- Stockholm, London and Copenhagen are the busiest international routes.
- Over 130 direct destinations in 45 countries around worldwide.
- Nearby the airport there are several hotels.
- A third terminal is planned to be built in the future.
- Helsinki airport serves as a hub for CityJet, Finnair, Jet Time, Norwegian Air Shuttle and TUIfly Nordic.
There are different methods of transportation to and from Helsinki Airport: Bus, train, taxi or car. See the information below:
- Bus: There are daytime and nighttime buses. Daytime: Line 617. Line 615 & Finnair bus: both run go to Helsinki Railway Station. More Info
- Night buses: Bus 615, Bus 415N and Bus 562N. Shuttle buses also operates for free from the airport. More info
- Train: In HEL Airport, the train station is located on the arrivals floor, between terminals 1 and 2. Travel time from HEL airport to Helsinki Central Station is about 30 minutes. More info.
- Taxi: Travel time to Helsinki city center is about 30 minutes and it costs 50 euros approx. There is the option to share taxicabs, three operators offer the service. More info
Contact
Address: Helsinki Airport, Lentäjäntie 3, 01530 Vantaa, FINLAND
GPS Location: 60°18'52.43" N / 24°58'13.21" E
Postal address: P.O. Box 50, 01531 Vantaa, FINLAND
Phone number: +358 20 708 000, from 8h to 16h (paycall)
Phone Information desk (24h):+358 200 14636 (paycall)
Lost & Found: +358 600 41006 (24/7, paycall)